Wyoming RV & Truck Service Center
Our friendly staff of Master Certified RV Technicians are knowledgeable, experienced and have the skills and tools to service any and all manufactured RV brands.
The Sonny's RVs Service Center includes 6 indoor RV service bays and 2 indoor truck bays to tackle any service need. We are excited to be your trusted Wyoming RV and truck service facility. If you're thinking about bringing your RV in for service check out our Service Menu. For information on keeping your RV in tip-top shape, contact us today or send a request using our form to the right.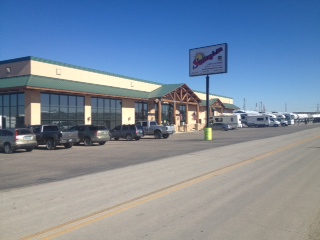 Service Hours
Monday - Friday: 8am - 5pm
Saturday: 8am - 4pm
Sunday: Closed
RV Parts Store
Our service center and parts store staff strategically work together to forecast and determine which parts are most important to have in stock for our local community and service RV travelers visiting or just passing Wyoming. Our dealership's RV Parts and Accessories store is stocked with a full list of service parts. We stock all commonly needed RV service parts, so you can get everything you need without having to leave our RV dealership center location. We also have many hard-to-find parts other dealers don't have. And if we don't have it, we'll find it for you!
Route 66 RV Partnership
Sonny's RV is a proud member of the Route 66 RV Network. With 140 RV network member locations, the Route 66 RV Network, is the largest network of independent RV dealers in North America.
As a Wyoming Route 66 RV network dealer, we provide RV service benefits for all Route 66 RV dealership member customers. When you buy an RV at Sonny's RVs you will travel with peace of mind knowing there is always a Route 66 RV network dealer ready to help you along the way.
No matter what RV brand you have, Sonnys RVS can repair it. Our exclusive Proprietary Parts Network will ensure that regardless of the brand of your RV we will be able to search the country for the replacement part needed to repair your RV!